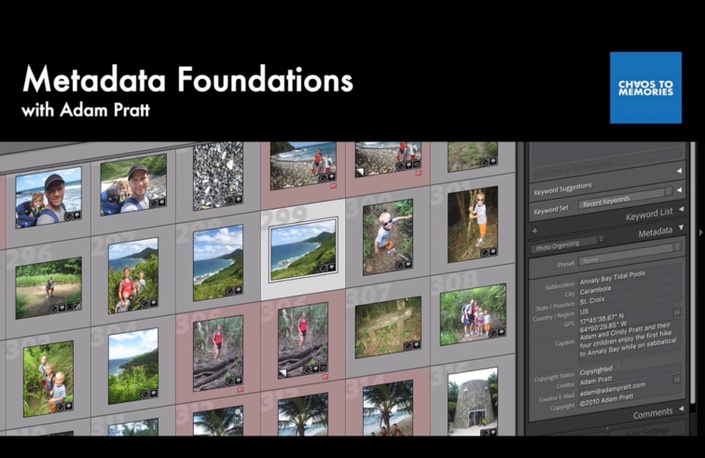 Metadata Foundations
Create Searchable Photo Archives with Industry Standards and Best Practices
Organizing photos so we can search, enjoy, and share them is an important project. There are lots of mobile apps, web sites, and computer software to manage your photos, but you want to do such a big project the right way the first time. Industry-standard metadata adds invisible tags to your photos that include important details such as dates, people, places, events, and more. These searchable tags aren't limited to specific phones, apps, or platforms and are the best way to organize photos for decades and generations to come.
Are you ready to learn what metadata is, how it works, and why it matters? Do you want to learn about professional best practices for organizing photos with searchable metadata? I hope you'll join us!
Course includes:
2+ hours of video training (2 hours, 8 minutes)
23 bite-sized lessons
Access on computer, tablet, or smart phone
Downloadable transcripts for every lesson to use as reference notes
Immediate access to all lessons with no expiration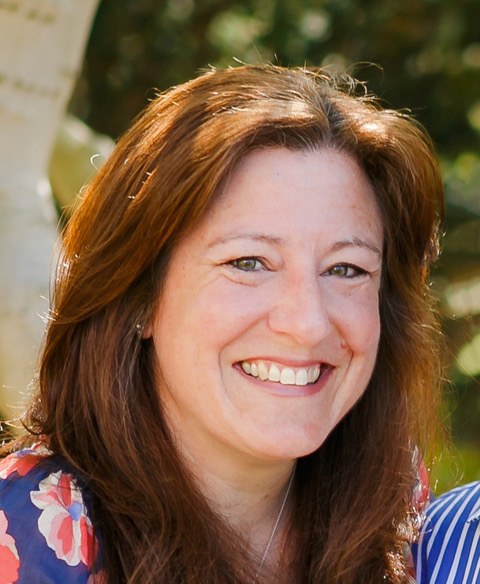 "Metadata can be confusing for professionals, let alone our clients. In his clear and thorough style, Adam does an excellent job of explaining what metadata is, how it works and how to manage it in digital and scanned photos. Whether you normally add metadata to client collections or not, this course will teach you everything you need to know to use metadata effectively."
- Cheryl DiFrank, Owner, My Memory File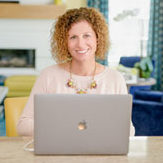 "Adam has a way of breaking down confusing topics into bite sized and easy to understand pieces. His passion for the value of metadata really shines in this course and helps me further understand why nothing is more important than applying searchable information to digital photos. This course gave me a solid overview of information I need to be confident in my abilities to provide the best service for each client and for my own photography collection. Thanks, Adam!"
- Paige Shockley, Owner, Blue Pencil Photo Solutions and Organizing
Your Instructor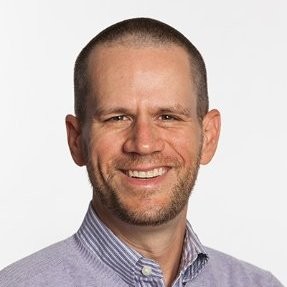 Adam Pratt loves people, photography, and a good story! He's spent the last 25 years at the intersection of creativity and technology, including 20+ years at Adobe where he works on the Creative Cloud team. He has experience as a photographer, book author, software trainer, and photo organizer. He's also the founder of Chaos to Memories where he helps people enjoy their photos again by turning their photo chaos into precious memories they can enjoy and share.
Frequently Asked Questions
I'm new to metadata and a little intimidated. Is this course for me?
This is exactly the course for you. This isn't a technical "how to" course, but a course of foundational concepts that will teach you the what and why of industry-standard metadata and workflow best practices.
Is this a beginner or advanced course?
Both! Seriously, I've had students who are brand new to the world of photo organizing and who have been working with metadata for decades take this course and learn a lot. So whether you're a newbie or an experienced pro, this course will solidify your understanding of foundational concepts of metadata and photo organizing.
I already took the Chaos to Memories course about Organizing Photos with Adobe Lightroom Classic. Should I take this course about metadata?
If you've already taken the Lightroom course then some of the material in this course will be a repeat. However, I cover more foundational concepts in this course about metadata and students who have taken both courses tell me they still learned a lot from this Metadata Foundations course.
I attended your Metadata Demystified Learning Lab at the 2020 Photo Managers virtual conference. What's the difference between the two?
That conference session and this online course cover most of the same material. The main differences are that this course covers a little more content and because it's pre-recorded is a shorter and more condensed presentation. This course includes transcripts and is divided into 23 short lessons so it's easy to watch and re-watch the lessons you need.