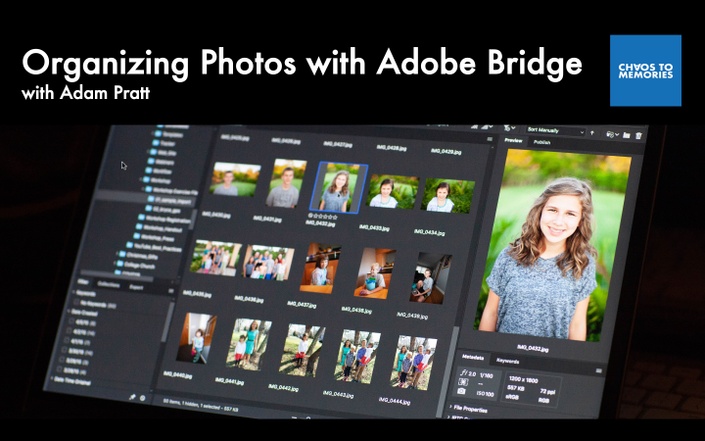 Organizing Photos with Adobe Bridge
Metadata Basics with Free Adobe Software
At Chaos to Memories we're passionate about preserving and sharing your family photo memories. So whether you have us organize your photos or you do it yourself, I want to make sure you follow industry best practices so your photo memories can be enjoyed today, tomorrow, and for generations to come.
In this short course (46 minutes) I'll answer six simple questions:
What's Metadata?
What's Adobe Bridge?
How do I Get Started?
How do I Add Metadata?
How do I Find my Photos?
What's Next?
Your Instructor

Adam Pratt loves people, photography, and a good story! He's spent the last 25 years at the intersection of creativity and technology, including 20+ years at Adobe where he works on the Creative Cloud team. He has experience as a photographer, book author, software trainer, and photo organizer. He's also the founder of Chaos to Memories where he helps people enjoy their photos again by turning their photo chaos into precious memories they can enjoy and share.
Reviews (5)
Great way to learn more about Adobe Bridge - Quickly
by Pam Gidney

Adam's courses are always well-designed. I always learn something, even with topics where I've already taken similar courses. Highly recommend!!
Quick Course to Easily Begin Using Adobe Bridge
by Jim Williams


Good information with examples to begin using Adobe Bridge to organize photos stored digitally.
Very helpful quick course
by Ellen Massaro


This course was very nice and well organized to watch. In the same time I learned a lot about the use of Adobe Bridge - in a quick way!
A mini course on the basics that is perfect for a beginner!
by Carol Lomas


Enough information is provided to begin a project, without it becoming overwhelming. Lesson topics and content were relevant, and I can revisit them if I require a refresher.
Perfect to get you going quick!
by Danica Yamasato

Easy course to follow and implement! Adam, as always, is clear and concise. He does a great job demystifying a potentially intimidating looking program.