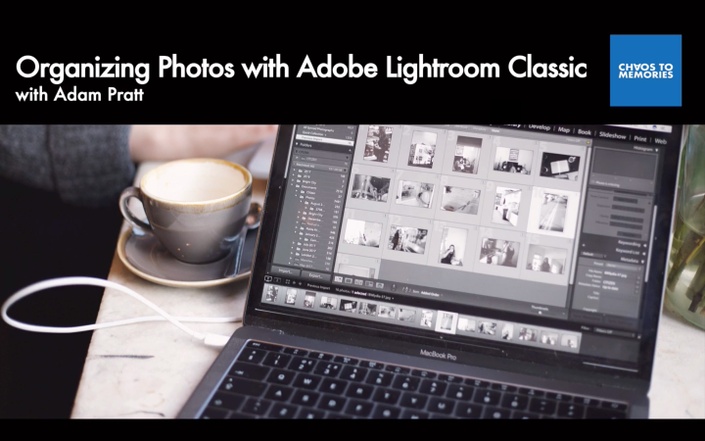 Organizing Photos with Adobe Lightroom Classic
A Comprehensive Workflow for Organizing Digital and Scanned Photos
Watch Promo
Are you overwhelmed by your own photo chaos? Does every new photo organizing project feel like a puzzle? Are you ready to take your photo organizing business to the next level? If so, then this course was created for you!
You'll learn how to organize photos in a way that:
relies on industry-standard Adobe software
follows a repeatable workflow
delivers a sorted, searchable, shareable, and secure photo archive
gives you new confidence
makes your photo organizing business more profitable
You'll learn a comprehensive workflow with Adobe Lightroom Classic that is based on open standards and industry best practices so that you can tackle any project that comes your way. This repeatable workflow can be used in any situation: digital photos or scanned photos, JPEG or Camera Raw, Mac or Windows, iPhone or Android. You'll be ready for anything!
This course covers foundational concepts and detailed step-by-step instructions for every phase of the workflow. This way you get the WHY and the HOW of every step.
Enjoy the free trial lessons for more details on what to expect, why to use Lightroom Classic, and how to get the most out of the course.


Who is this course for?
Professional Photo Organizers who organize photo collections for clients (beginner to experienced)
Serious Amateur Photographers who want to organize their own photos
Professional Photographers who want to organize their photo archives
Family Historians who want to preserve and organize photos for future generations
Includes
7.5 hours of self-paced video training in 8 modules and 40+ individual lessons (7 hours, 32 minutes)
Bonus material including a Lightroom Resource Guide full of important links, shortcuts, and checklists
Lightroom Troubleshooting Guide to help with common confusing situations
Customizable Workflow Checklist in multiple formats (InDesign, XLS, and PDF) and sizes (letter and tabloid)
Downloadable transcripts for every lesson to use as reference notes
30% off Lightroom Keyboards and Keyboard Covers from https://kbcovers.com/lightroom
Your Instructor

Adam Pratt loves people, photography, and a good story! He's spent the last 25 years at the intersection of creativity and technology, including 20+ years at Adobe where he works on the Creative Cloud team. He has experience as a photographer, book author, software trainer, and photo organizer. He's also the founder of Chaos to Memories where he helps people enjoy their photos again by turning their photo chaos into precious memories they can enjoy and share.
Course Curriculum
Module 1: Introduction
Available in days
days after you enroll
Module 2: Introducing Adobe Lightroom Classic
Available in days
days after you enroll
Frequently Asked Questions
I tried to learn Lightroom before and got frustrated. How is this course different?
Most Lightroom training focuses on editing digital photos but doesn't do a great job of explaining the concepts and workflow behind Lightroom catalogs. This course was created by a photo organizer and teaches a complete photo organizing workflow. You won't learn all the features of Lightroom, but you'll learn everything you need to organize photos using open standards and industry best practices.
Do I need Lightroom to benefit from this course?
Even if you don't have Lightroom Classic, there's a lot to learn about metadata and best practices, but if you want to implement the workflow I teach, you need a license of Lightroom Classic. It's only $10/month to subscribe to the Adobe Creative Cloud Photography Plan which includes the latest version of Adobe Lightroom Classic and Adobe Photoshop.
I'm willing to learn Lightroom, but I don't think it's realistic for my client to learn it. Is this course still useful to me?
Absolutely! Everything in this course is based on open standards and industry best practices, so all the work you do for your clients (creating a core file structure, assigning industry-standard metadata, renaming files, etc.) is accessible even if they don't use Lightroom.
Can I use the new Lightroom CC?
Lightroom CC is a cool new app from Adobe, but it's not the best choice for a photo organizer and won't help you implement the workflow I teach in this course. You need to use Lightroom Classic to get the most out of this course.
What's the cost of the software used in this course?
Adobe Lightroom Classic is the core of the course and is available for only $10/month which also includes the latest version of Adobe Photoshop. There are a few other utilities and plug-ins that are one-time purchases and range from $10-50 each. Even if you bought all the other tools I recommend, the total should be less than $150 and will save you countless hours.